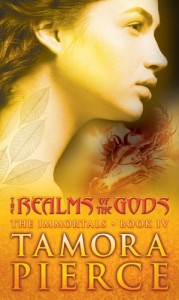 I enjoyed this book a lot when I first picked it up. The writing was strong and compelling as were the characters. I read nearly half of it in a day. But when Diane and Numair became more than friends, there was a noticeable decline in just about everything. And Numair is WAY older than Diane. And just because they didn't have sex (that I know of) doesn't mean it's ok or a good idea for them to be together.
When they returned to Tortall, most of the enemy had been driven out and the only remaining trouble was in one port city. I found this to be very disappointing and anti-climatic. And when there was a battle, it was told matter-of-factly up until Rikash's death. And the cherry on this poorly executed scene was Diane screaming "Nooooooo!"
Save yourself and skip this book. It's not critical to the others.